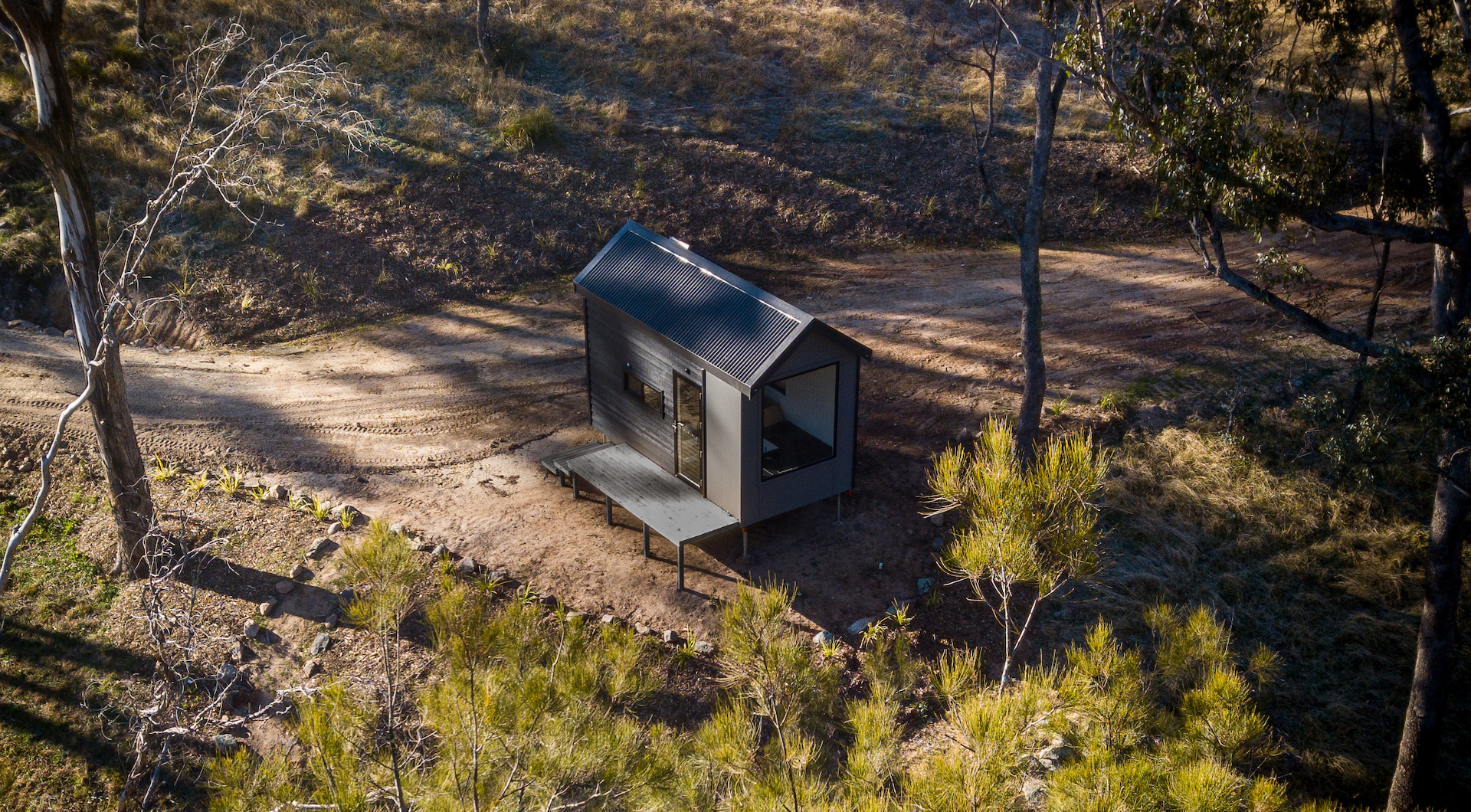 Our Accommodation
Welcome to Tiny Homes Joadja in the Southern Highlands. We invite you to escape from the hustle and bustle of life by immersing yourself in nature at our eco-aware accommodation. Our four Tiny Homes and River Cottage are located parallel to the Wingecarribee River, Joadja. It is the perfect, scenic, off-grid opportunity to re-energise in the beautiful Southern Highlands.
About Tiny Homes
What is it that makes Joadja Tiny Homes so special? Perhaps it is their simplicity that quietens the mind, or the immersion in nature they invite which soothes the soul. Whether you are seeking to escape, connect or have an adventure, find inspiration on our Tiny Homes blog.
WHAT OUR GUESTS SAY
Jess – January 2022
If you are looking for an escape, to switch off from the business of the world, this is the perfect place. Wilson's Rest is situated perfectly at the top of a small hill. Your view is of tall mountain ranges, quiet flowing rivers and in the morning you're greeted by birds and their endless sweet melodies.

Leah – February 2022
What a wonderful location. We stayed at Wilson's Rest and explored the property finding many interesting things, including wombat holes, birds, kangaroos and what a beautiful river. There are so many spots to relax and take it all in.

Lauren – February 2022
The Rapids is wonderful! The location you can't fault, having the best view of the river making it perfect for swimming and exploring. Fire pit, rapids, sunset and all you need very comfortably. Amazing and highly recommend.
Shea - December 2021
The perfect spot for a relaxing few days away. The house itself is beautiful – the amount of natural light let in is amazing and made us feel very close to nature. Being able to hear the river from bed was also a plus! Would recommend to anyone. 10/10!

Adam – November 2021
Our Tiny House was a delight. You are so close to the water in all of these tiny homes. It's right there! You can hear the birds singing and the water flowing when you leave the screens open. It's like everything you want when you camp without having to camp.

Neda – January 2022
The most serene holiday house we've ever stayed in! The location is incredible right by the river. It was quite incredible to hear the sound from all parts of the house. The house is really clean, much more spacious than in photos and really beautiful decorated.

Monica – January 2021
River Cottage far exceeded our expectations, the photos don't do it justice! The most tranquil setting – it is so quiet at night with a clear view of the moon, it really is picture perfect. Bring a picnic blanket to watch the stars at night, we spotted a lot of shooting stars.

Angela – January 2022
We loved our stay at Elevation, it was perfect. Tranquil. Clean and cosy. Beautiful river and mountain views and nature at its finest.